A Proud History of Professional Valet and Parking Management Services
When American Valet Parking Response was founded in 2016, our goal was simple: we wanted to provide the highest quality of courteous, professional valet and parking management services to businesses and patrons nationwide. Over the years, our "family operation" has grown to more than several hundred employees in hundreds of locations, including hotels and resorts, casinos, healthcare facilities, retail centers, and more. Although we have expanded and now work with businesses across the Inland Empire, we maintain a local presence in each area that we serve, and our core mission has remained the same—to provide top-notch service and help our clients deliver outstanding experiences for their patrons.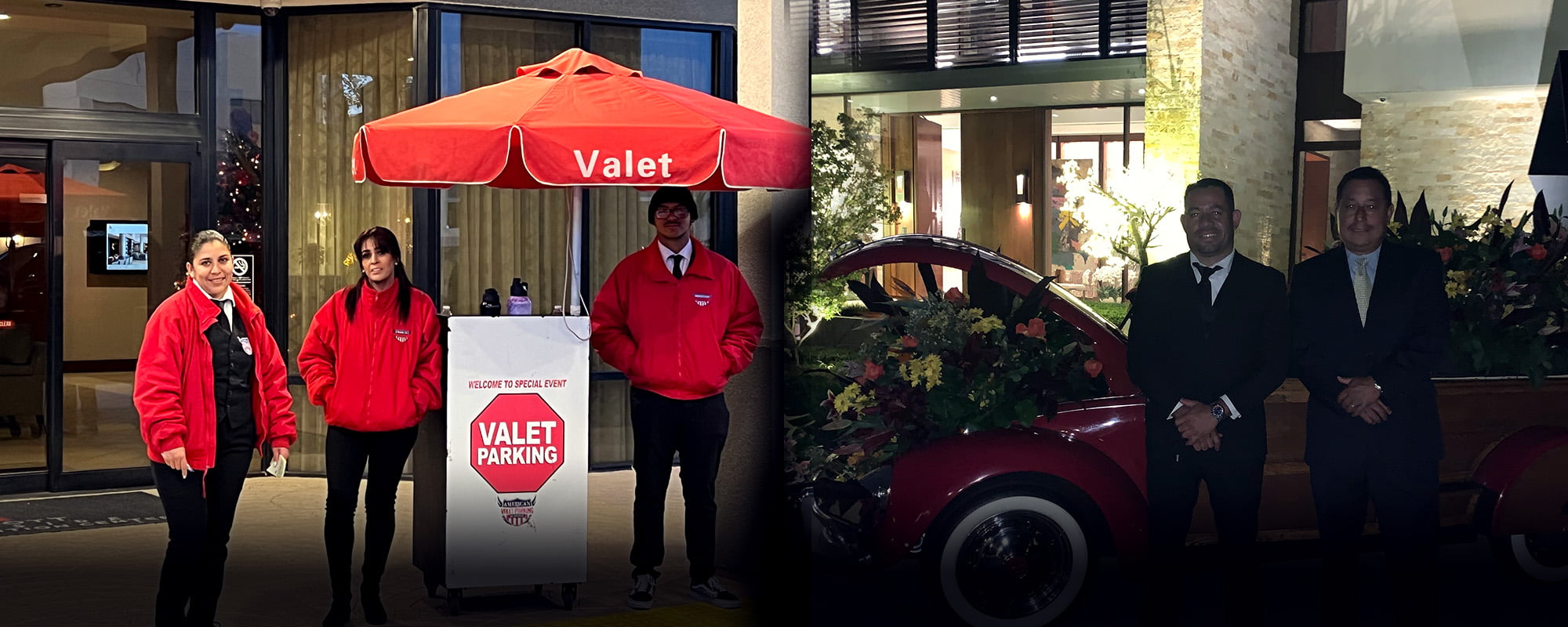 Our high level of service, and ultimately our success, comes from employees who are professional, dedicated, and friendly. And while many businesses claim similar values, the level of quality we provide is evident from the recommendations and accolades from our many satisfied customers.
What Sets Us Apart?
With a dedicated, well-trained staff, specialized services tailored for each client that we serve, and state-of-the-art equipment and technology, American Parking & Services constantly strives to provide the best valet and parking management services available. Our many years of experience and our commitment to excellence set us apart from the competition—and our clients appreciate the difference right away.
Dedicated Valet Parking with onsite supervisors and team leaders
Area managers who provide ongoing support for our clients
Professional, friendly, and uniformed valet parking attendants, guest attendants, and more
Vehicles and Equipment:

Mini-buses, mini-vans, passenger golf carts, and optional motorcoaches
Valet podiums, cones, and custom signs
Communication:
Phone: Call Us at 951-224-5965
We are available 24 hours!
Email: Send Us a Message
Social Media: Utilize social media platforms such as Facebook, Twitter, and Instagram to connect with customers and provide support.
Mailing Address:
Our Mailing is Located in Riverside, California

American Valet Parking Response
12001 Pike St,
Riverside, CA 92505

In-Person Meetings: We offer the option for in-person meetings at your office or at a convenient location.
Support Systems:

We handle employee screening, hiring, training, scheduling, and all forms of employee compensation
Our administrative services provide regular quality assurance and quality control
Our management program assigns division managers to support our client accounts
Local phone numbers for 24-hour customer service support, customer assistance/emergency assistance
Local representatives and parking lot ambassadors
American Valet Parking Response carries liability protections including: public liability, property damage, garage-keeper liability and bodily injury and your facility is listed as an additional insured
Strict key control procedures and lockable key podiums
Operating across the Inland Empire,
we provide contracted service to many corporate locations
Operating across the Inland Empire, we provide a comprehensive range of contracted valet services to many corporate locations. Our experienced and well-trained staff will ensure that your customers' vehicles are treated with the highest standards of care and attention. We strive to offer superior quality service and an efficient and courteous experience for all our customers. So if you're looking for a contracted valet service that you can trust, look no further.
Alex and his team were amazing to work with! They were highly responsive leading up the event and very professional. They arrived early and went to work right away. They even let us extend the time at the end of the event. I've worked with a lot of different valet companies and these guys were top notch. Highly recommend!
Had an excellent experience working with this valet team. Alex got the quote to me within an hour of reaching out to him. He was super responsive and his team was great and so professional. Thank you so much for everything!
I used this valet service for my brother's wedding. The drivers were very professional and timely. I'd definitely recommend them to groups looking for a reliable service.
Our driver was very polite and accommodating very professional very nice I would highly recommend the service
How Does Valet Service
Save You Money?
As a business owner, you want to make sure you're getting the most out of every penny you spend. One of the best ways to do this is by investing in valet service for your business. Valet service can help you save money in a variety of ways, from reducing employee turnover to reducing insurance costs.
Exploring Parking Solutions in Glendale?
If you're on a quest to optimize and revamp your parking facilities in Glendale, look no further than American Valet Parking Response. Our top-tier valet parking and parking facilities management services are thoughtfully crafted to elevate your parking operations and significantly enhance the overall customer experience.
Our highly specialized team excels in delivering efficient, customer-centric parking solutions that are finely tuned to meet the specific needs of Glendale-based businesses. Whether you manage a hotel, restaurant, or any other establishment in this vibrant city, we can tailor our services precisely to your requirements.
Bid farewell to the complexities of parking logistics management. Entrust us with your parking needs, freeing up your time and resources to focus on what genuinely matters to your business – delivering exceptional service to your customers and fostering the growth of your brand.
As you embark on your search for "Valet Parking Services in Glendale" or seek parking solutions through voice assistants, bear in mind that American Valet Parking Response stands out as your trusted partner for outstanding Parking Facilities Management in Glendale and its bustling neighborhoods. Don't hesitate to reach out to us today, and let's explore how we can enhance your parking services and elevate customer satisfaction together.
Please complete the form below, and we'll get in touch with you shortly.